I am so not ready to do back to work tomorrow. That's the problem with good weekends... they have to end.
Friday I worked. When I got home Patrick was working on dinner. I showered, we ate and watched a few episodes of Duck Dynasty. If you haven't seen that show then you haven't lived. It is my kinda show... very quotable. Patrick and I are borderline obsessed (as in we are asking for Duck Dynasty merch for Christmas) and try to throw Si (the crazy bearded uncle) quotes into conversation as often as possible!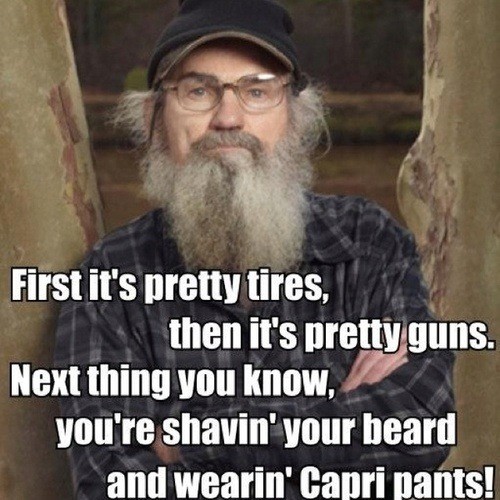 SEE WHAT I MEAN???? Hilarious.
Saturday, I cleaned the apartment to get ready to decorate for Christmas while Patrick went up to Holy Trinity for a day retreat. Our close friend, Dan, was Confirmed into the Catholic Church Saturday night and received his First Holy Communion. Patrick was honored to be his sponsor and the retreat was a sort of preparation for the actual celebration of the Sacraments.
Converts to Catholicism are very special people. Not that the rest of us aren't but these converts experience things differently from us. They have a yearning to be a part of the communion of the Catholic Church. The have a desire to receive the Eucharist. They long to learn the teachings and be part of the Church that was started by Jesus Christ. It's not that the cradle Catholics like myself don't have these desires, but unfortunately if that is all we know we have a tendency to take it for granted. I confess... I have taken it for granted often.
I have heard people say that these Confirmations and First Communions whether for children or adults should be done at separate Masses. I however, think that witnessing them enter into the Catholic Church helps remind us what it's all about. It helps us refocus and see the beauty in the unity.
After Mass we went out to eat at a Mexican restaurant with Dan and his family and his fiance's family. I ate my body weight in quesadillas... I'm not proud of it.
Sunday was the first day that Patrick and I BOTH could sleep in in God only knows how long! I got about 10.5 hours of sleep! Heck yes! We had coffee, ate breakfast and went for a walk. Then, I finished decorating for Christmas! I freaking love Christmas.
My feelings about Christmas in a nut shell
More on that later :)
PS- I am really trying to get better about this how blogging thing. I'm a total amateur. What in the heck is this 7 Quick Takes business that everyone is doing? What's a link up? I seriously don't know how to do any of this stuff. So much still to learn!